Features
Fragments from Gaza After the 2014 War
Anyone in Gaza fifteen years or older is now entering their fifth war.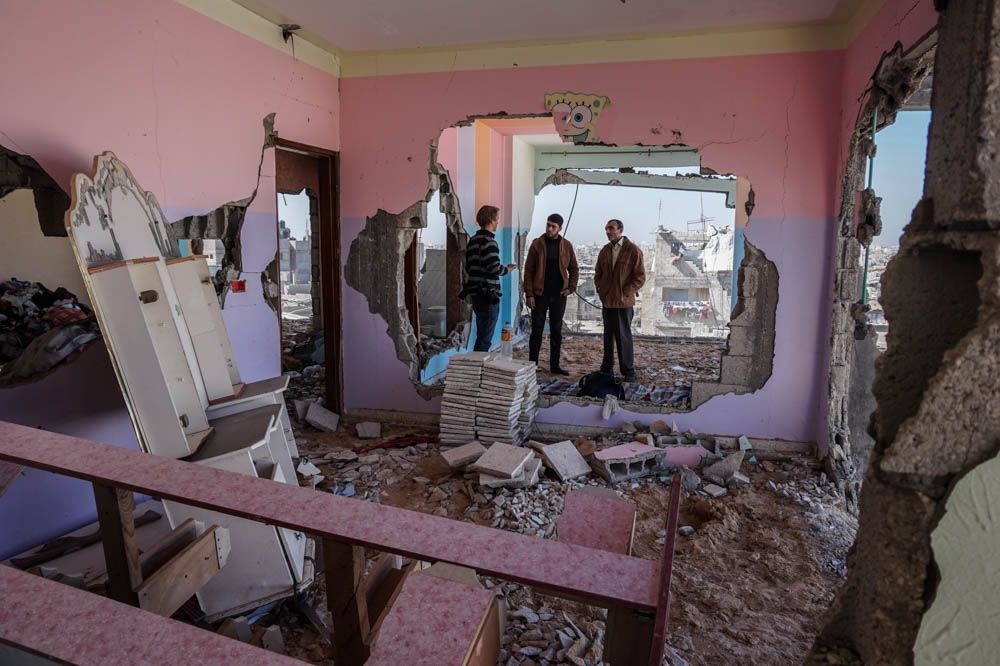 In late 2014, I traveled to the Gaza Strip on assignment for a press rights organization that no longer exists. Israel's fifty-one-day war on the coastal enclave, one of the most densely populated places on the planet, had ended a couple months earlier. My job was to interview the families and colleagues of press workers who'd been killed and the reporters who'd been injured covering the fighting. I passed through the Erez crossing, a brightly lit, airport-like building where you and all your belongings are scanned. An Israeli officer looked at my passport, typed something into her computer, and squinted at the screen for a long time. She made several phone calls, I guess, to make sure I had approval to enter the territory. After a while, she waved me through.
After stepping out of the building, I set off on a fifteen-minute walk down a narrow, caged-in corridor that sliced through thick green fields and led to the other end. On either side of the corridor, sheep and goats roamed the fields, following far behind them their shepherds. Now and then, the automated gun turrets atop the Israeli fence snapped off a few shots, apparently when the livestock stepped on a sensor, or someone got too close to the border fence. Earlier that year, during the swelter of summer, Israeli forces had attacked Gaza by land, air, and sea, while Palestinian armed groups lobbed rockets into the southern and central regions of present-day Israel.
That day, like most, the crossing had few pedestrians: Israel rarely granted Palestinians permits to come or go. I handed over my passport at a checkpoint administered by the Palestinian Authority, the West Bank-based government with no presence in Gaza, and then another operated by Hamas, the party that has controlled the Strip since 2007. Once out, I got into a taxi and headed to Gaza City, watching as the fragments of the heartache and destruction the war had left Palestinians to sift through blurred past through the window: buildings razed into nothing more than piles of rubble, families camped out on the small mountains of busted concrete and mangled steel that were once their homes.
That first trip, I spent around two weeks in Gaza, zigzagging the territory—a space about the size of Washington D.C.—and speaking with the survivors of the war, journalists, and those who had lost loved ones. All across the Strip, people I spoke with recounted the airstrikes that crashed into residential towers and disappeared their homes. In agricultural villages in the north and the south, farmers and shepherds explained how they tended to their fields and livestock under the ever-present threat of gunfire and drone attacks even when there wasn't an ongoing war.
In Gaza City's crowded Shujayea district, where some of the bloodiest moments of that war had taken place, a woman named Shaima told me how she was stuck beneath the collapsed debris of her home for six hours on July 20, 2014, pregnant and certain she would die. She had been pinned beneath the rubble, not far from her husband. Palestinian rescue crews eventually saved, but they couldn't save everyone who'd been in the house. Her husband, Muhammad Daher, a journalist for the Al-Resaleh newspaper, was gravely injured. Ten days later, he died in a hospital. The building's collapse had also killed three more of their relatives who lived there. Shaima admitted she had no clue how she (or her child) survived. "We all miss him so much," she said of her husband, and what else could someone say of a moment like that?
Along with Palestinian colleagues, I walked through Shujayea a handful of times on that trip. Shaima's survival might have been a miracle, but what happened to her home wasn't an exception—everywhere you looked, survivors dug through the rubble. Here and there a prayer mat or a toy poked from beneath the mounds of shattered concrete. Some collected scrap metal and copper wire to sell—what else could they do to survive in a place where, even when it wasn't wracked by war, jobs were scarce? One family lit bonfires in the hollowed living room of their home, a half-standing husk with no windows, electricity, or running water left. Down the street, on the exterior wall of a bombed-out building, someone had spray painted "By USA Weapons." Nearby, graffiti on the wall of another home, this one entirely toppled, offered more details: "All This Family Killed by USA Weapons."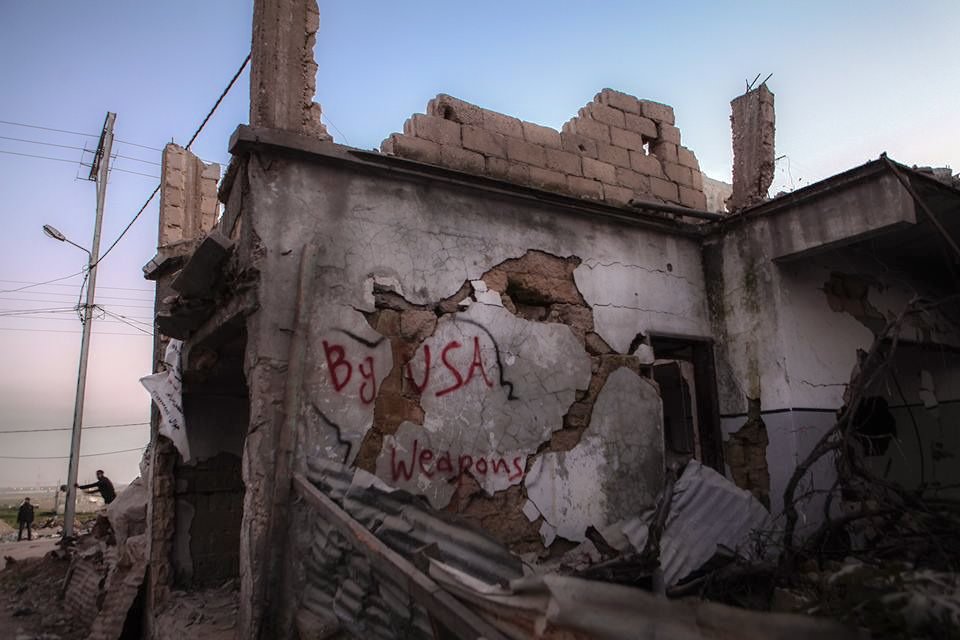 ---
I met a woman named Karima, a mother and grandmother. Her son, a twenty-five-year-old journalist named Rami Rayan, had rushed to photograph Shujayea medics and residents venturing out into a local market to during a humanitarian cease on July 30. Around six o'clock that afternoon, three hours into the ceasefire, Israeli shells ripped through a crowd at the market, killing seventeen. Rami, who had worked for the Palestine Network news agency for years, was carrying a camera and wearing a jacket labeled "Press," but neither could save him. He died, leaving behind a widow and five children then aged between six months and five years old. "His oldest daughter plays with his camera all the time and says she wants to be a journalist like her dad," Karima said.
In places where tragedy becomes routine, the stories can bleed into one another, but routine tragedy doesn't always pummel its victims into submission. Everyone had lost someone: a parent, a child, a friend, a colleague, a neighbor. After a couple weeks, I left Gaza, traveled to the West Bank, Jordan, and Lebanon, journeys almost no one who lived in the Strip could make due to entry and exit restrictions Israel and Egypt imposed on them. Although almost no one I met there had ever left Gaza, nearly everyone refused to accept that the place of their birth condemned them to a life of misery. In the narrow alleyways of refugee camps and in entire neighborhoods reduced to debris, you found people trying to rebuild their homes with what little material they could piece together. In the fields once scorched by blazes, farmers replanted their crops and tended to their animals.
In late 2015, as the number of refugees and migrants reaching Europe spiked, I flew to Europe as hundreds of thousands of people crossed the Mediterranean Sea to escape wars and economic crises. Now and then throughout the last eight years, I've met people who escaped Gaza on the migration trails. Everyone pointed to different reasons for leaving. Many simply saw no way to endure in Gaza. Some were desperate for work. Some had run afoul of the hardline Hamas government. Others had health problems, conditions that couldn't adequately be treated in a place where life-saving medicine cannot always be found, where hospitals often don't have enough fuel to operate their generators during electricity blackouts. Almost everyone also knew there would be more bloodshed in Gaza.
Palestinians and Israelis are now in the throes of yet another war. On Saturday, Hamas fighters poured across the border between Gaza and present-day Israel, killing hundreds of Israelis and taking scores of hostages. Israel's far-right government has since launched a nonstop barrage of airstrikes and shelling, and tens of thousands of troops have gathered on the border for a ground invasion. In the first four days alone, more than 1,200 Israelis and 950 Palestinians were killed. Anyone fifteen years or older is experiencing their fifth war, one that will likely be the deadliest yet.
---
Before, during, and after Israel's establishment in 1948, Zionist militias and Israeli armed forces drove hundreds of thousands of Palestinians from their cities and villages, scattering them across the Middle East and beyond. Palestinians call their expulsion and Israel's establishment the Nakba, or catastrophe, and most of the refugees ended up in dozens of decrepit camps in the West Bank and the Gaza Strip, as well as in Lebanon, Jordan, and Syria. For more than seven decades, their descendants have been born and raised in the same camps.
During the Middle East war of 1967, yet more Palestinians were displaced when Israel captured and occupied Gaza and the West Bank, including East Jerusalem. (Israel also occupies the Syrian Golan Heights.) Today, the United Nations agency for Palestinian refugees, UNRWA, estimates that there are nearly six million Palestinian refugees. With more than 2.3 million residents living on a 140-square-mile sliver of land, Gaza is home to one of the largest per capita populations of displaced Palestinians and their descendants: more than 1.4 refugees live in the Strip, according to UNRWA.
In the last seventy-five years, Israel has never officially defined its borders, and despite efforts to create a Palestinian state in the territories Israel occupied in 1967, ever-expanding Jewish settlements dissect the map of the West Bank. Israel cleared out its settlements in the Gaza Strip in 2005, but since 2007, Israel and Egypt have kept the region sealed off with a blockade that regulates who and what can enter or exit Gaza.
Today, Israel's separation wall strays from the so-called Green Line—the boundary between present-day Israel and the West Bank—and encroaches on Palestinian land, while settlers enjoy state protection and assistance in snatching up more land for colonies. Meanwhile, Gaza residents live choked off from the world, blockaded by air, land, and sea. Many describe Gaza as an open-air prison, but the skies aren't actually open, not with the warplanes and drones that routinely buzz above. (Israel may not have ever officially declared its exact boundaries, but what is Palestine's story if not an endless process of redrawing borders at the expense of human lives?)
In late December 2008, Israel launched Operation Cast Lead, three weeks of fierce fighting that ended with thirteen Israelis dead, including three civilians, and killed more than 1,400 Palestinians, around sixty-five percent of whom were civilians. The next war on Gaza came in November 2012 and lasted eight days. In July 2014, when Israel launched the third war—the costliest, longest, and deadliest to date—Palestinians in Gaza had hardly recovered from the previous catastrophes. Throughout those fifty-one days, more than 2,200 Palestinians died—around two-thirds were civilians, including more than 560 children. During the same period, sixty-seven Israeli soldiers and six civilians in Israel died.
The death toll only told a part of the story. The 2014 war displaced more than 110,000 people from their homes within Gaza, and more than 450,000 residents of the Strip had no access to water, according to the U.N.'s Office for the Coordination of Humanitarian Affairs (OCHA). Worse still, in the weeks and months after the war ended, the Israeli-Egyptian blockade meant that Gaza residents had little access to humanitarian supplies and construction materials they needed to rebuild. During my time in Gaza, I met survivors, journalists, humanitarians, activists, farmers who struggled to maintain their crops, fishermen regularly shot at by the Israeli navy, Hamas officials, and militants who had day jobs. More times than I could count, people described life in the Strip as an incremental suffocation.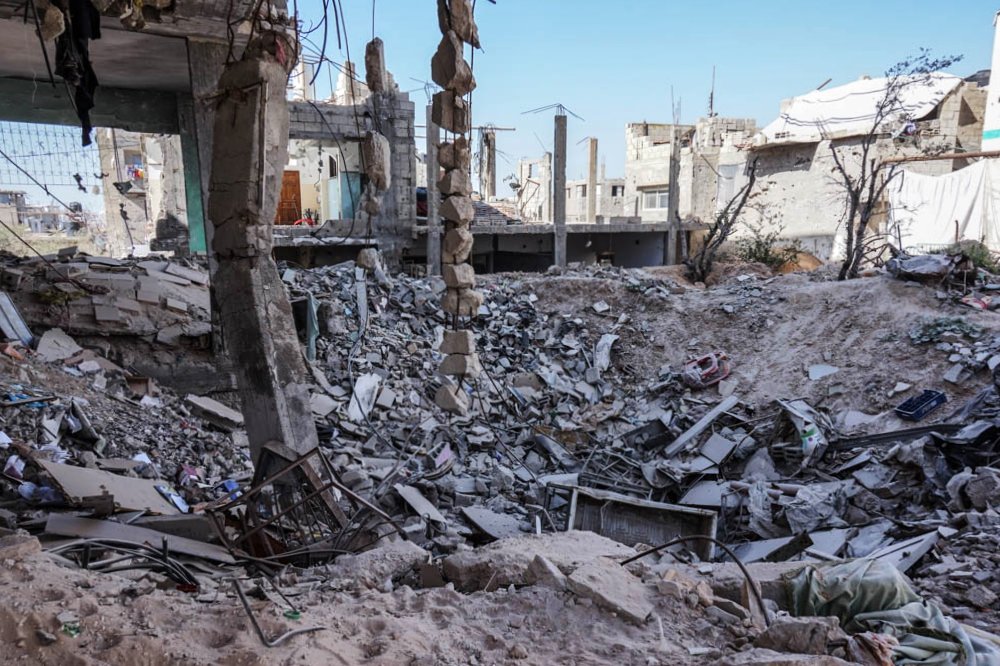 Between March 2018 and December 2019, Palestinians rallied almost every Friday in Gaza, a series of demonstrations that became known as the Great March of Return. People marched toward the border fences with the demand that refugees be allowed to return to lands their families were pushed off in 1948. Some hurled stones and Molotov cocktails, but many merely protested. Israeli forces fired tear gas and live bullets. By the time the marches ended more than a year and a half after they began, Israeli forces had killed more than 220 Palestinian demonstrators.
In May 2021, Israel launched another war in the Gaza Strip. For some two weeks, Israeli forces rained down airstrikes while Islamic Jihad, a Palestinian armed group, fired rockets over the fence. The war killed more than 250 Palestinians and thirteen people in Israel. The violence bled across the borders, and inside Israel, mobs hunted down and attacked Palestinian citizens of Israel, part of the minority that makes up twenty percent of the country's population.
Every few years, it seemed, wars erupted as if set on timer. But when the latest round of fighting started on October 7, it looked different. Hamas militants fired rockets across the border. Fighters on motorcycles rolled up to the border and detonated explosives, bursting holes into the fence. Others floated across on hang gliders. They stormed Israeli military bases, cities, and nearby kibbutzim. The deadly attacks devastated Israelis. Israel declared war, launching battles with Hamas fighters inside present-day Israeli territory and unleashing a flurry of airstrikes inside Gaza.
Israeli Prime Minister Benjamin Netanyahu has vowed to "change the Middle East" in this latest military offensive. Israeli Defense Minister Yoav Gallant announced a "complete siege" of Gaza, cutting the electricity and banning the entry of food and fuel into the territory. (Rights groups said the threat, if implemented, would amount to a war crime.) Israeli airstrikes and other attacks have leveled high rises and entire rows of homes in refugee camps in the Strip. Abu Obeida, the pseudonymous leader of Hamas's armed wing, warned that the group would start killing hostages in response to Israeli airstrikes launched against civilians without warning.
---
In late 2014 and through part of 2015, I went back to Gaza several times throughout the next six months. Each time I returned, life had deteriorated even more. The mounds of rubble that had once been homes, shops, schools, and hospitals still stood tall in neighborhoods up and down the enclave. Families who lost their providers still struggled to find money for food and medicine. Israel still denied international human rights groups and United Nations officials access to Gaza. International financial assistance still trickled in at a funeral's pace, and construction materials were hard to come by. The electricity still disappeared several hours a day. Some still had to boil water contaminated with sewage and seawater for something, anything, to drink.
I spoke with the families or friends of most of the sixteen press workers the 2014 war had killed. Fifteen Palestinian journalists had died and one foreign reporter, an Italian who had stepped on an unexploded ordnance. The stories were brutal, people dead beneath the remains of their homes, others whose cars were struck by missiles, and some shelled while trying to cover the battles.
Hazem Zarqout told me about the rocket that ended his brother Ahed's life. Ahed, a 49-year-old sports journalist who had worked for Palestine TV for three decades, lived in the Italian Tower, one of Gaza City's many high rises. Hazem explained that on the morning of July 30, 2014, Ahed stood in front of his bedroom window as his wife made coffee in the kitchen. When the missile tore through the window, Ahed's wife and teenage son escaped unscathed, but Ahed died on the spot. "He had no political affiliations or military ties whatsoever," Hazem added. "All he cared about was sports—that was his whole life." Three weeks later, another missile strike toppled the rest of the thirteen-story building, forcing Hazem and his family to flee.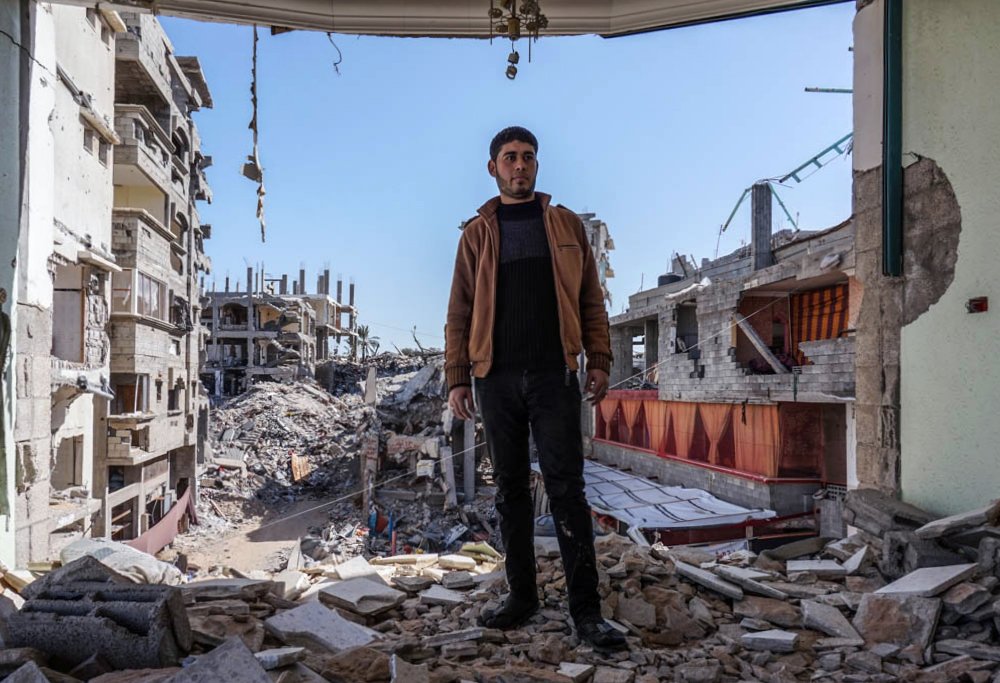 Documentary filmmaker Khaled Hamed's wife, Hala, learned of his death on July 20, 2014. "I knew something was wrong that morning when I woke up," she recalled. When she turned on the news, she recognized his camera in the streets of Shujayea on Al Jazeera Arabic. Then, she saw his body. In Rafah, in southern Gaza, an Israeli strike killed fifty-eight-year-old Baha al-Ghareeb, a manager at Palestine TV, and his daughter on July 29, 2014. When the strike hit, Baha and his daughter were standing around 200 meters away from his house. "Life has changed in every way imaginable since they died," his son Mohammed told me. "It is very difficult."
There were also those who survived, like Hamed al-Shobaki, a cameraman for Al Manara Media and Technical Production. Twenty-four years old at the time, he had sped to Shujayea during the same humanitarian ceasefire Rami Rayan had died covering on July 30, 2014. When tank shells landed next to the ambulance where journalists and medics had gathered, the explosion flung Hamed to the ground, breaking his left leg, shattering his right kneecap, and leaving him with a slate of fractures.
By the time I met Hamed, he had already undergone three surgeries and wasn't sure how long he would need to walk without crutches again—maybe six months, maybe a year. Either way, in the best case scenario, doctors told him he would likely spend the rest of his life walking with a limp. He was angry—who wouldn't be?—but he didn't regret rushing to Shujayea that day. "People were dying in schools, in houses, and in areas with heavy fighting," he told me. "So, we wanted to cover as much as we could."
After living and reporting in Palestine for four years, I left in the summer of 2015, almost a year to the day after the 2014 war had started. I haven't returned to Gaza since my last visit that April. Many of the people I knew there at the time have since fled in a desperate search for refuge elsewhere. But some are undoubtedly still in the Strip, living through the "complete siege" Israeli forces are now imposing on the area. Over the years, the U.N. had now and then issued a warning that Gaza would be "unlivable" by 2020. That year came and went, and Gaza's residents are now living through their second war since. Warplanes are above. Tens of thousands of Israeli troops are gathering on the border. How will we describe life for people in Gaza after this?